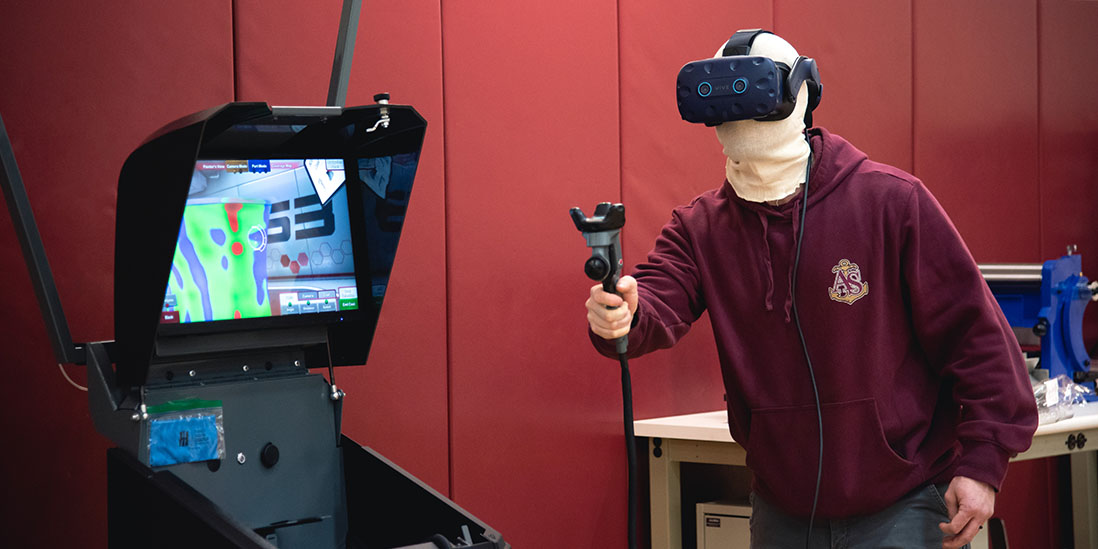 Photo by Ashley Cowan
Wonders of Technology
Published March 29, 2022
When Jasmyn Jerkins (X42) began her apprenticeship at Newport News Shipbuilding last year, she had no prior experience with a trade.
"I came from teaching, so I didn't know what to expect coming to a trade. But I loved it once I started," she said. "I went to Welding School and did really well. As I started getting better, it just was rewarding to know that I was doing something I never thought I would and doing well with it."
While Jerkins took to welding, it wasn't without some initial concerns. "When I first came to the Welding School, I was terrified of catching myself on fire," she said.
New technology may help ease similar fears for new shipbuilders at NNS.
Jerkins was among a group of apprentices who tried out an augmented reality welding machine, a virtual reality paint machine, a handheld laser scanning device and a 3D printer as part of their Digital Shipbuilding and Technology course. It's a class that was introduced as part of The Apprentice School's initiative to begin awarding academic degrees.
"The course is meant to expose our students – the future leaders of the company – to the Integrated Digital Shipbuilding (iDS) program and what it stands for," said Apprentice School instructor Lonnie Elrod. "We were online for about a year and a half, and we weren't able to do this. The great thing about being back face-to-face is students get to see and experience the technology. We can sit there and talk about it all day long, but until they experience it and have it in their hands, they're not going to really get it."
Students entering The Apprentice School now grew up with technology, and using tools like these for training is a natural fit, according to Elrod. It is a safer way to train and will help cut material costs. "The goal is definitely to use these tools for training. It's very friendly, and students are less intimidated," he said.
Jerkins said the machines will give new shipbuilders an idea of what to expect on the job "without the external elements."
"It helps to ease your mind," she said. "You're not blindsided when you go on the waterfront and try it out for the first time."